Here's what's included in this program: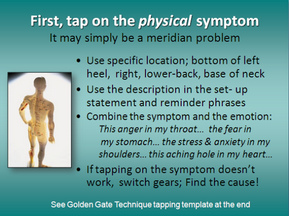 Part 1a: "Tapping on the Symptoms", the Golden Gate Technique and Reversal Neutralization - Where to start with the simplest issues and where to go from there. The The bonus Golden Gate Technique will give you a template to help tap with all future issues, even non-health related.
The Reversals video will also help you neutralize any subconscious resistance to healing. THAT technique alone could be the best thing for all of your tapping issues.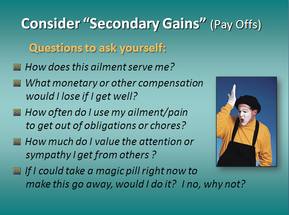 Part 1b: "Discovering and Neutralizing the Cause of Ailments" and "Chasing the Pain"
Asking yourself tough questions and tapping on answers that could block your healing.
Sample set-up statements and reminder phrases
Chasing the Pain: the phenomena of pain trying to run away from you within the body.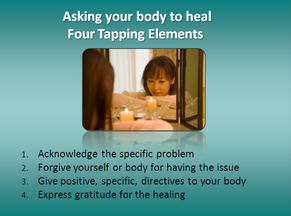 Part 2: "Asking the Body to Heal"

Techniques to challenge your body to do what it already knows how to do. It loves respect and appreciation, rather than getting beat up for being sick. :-)

Sample set-up statements and reminder phrases
Additional Benefits:
Color PowerPoint handouts for each video
The ability to download the products to your iPhone, iPad or other smart phone.

Note: Lindsay Kenny is not a medical doctor. The techniques and processes shown in these videos are not intended to replace regular medical treatment, but rather to offer additional, alternative treatments for relief. Do not stop taking medications, unless under the supervision of your health-care professional.