Professional Affiliate Partners
We are fortunate to be affiliated with several reputable, beneficial, business associates. Please read about and support our following partners.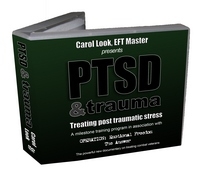 My friends and colleagues, Carol Look and Eric Huurre (the producer of the Veterans' Documentary "Operation Emotional Freedom",) have created a work of "Art". Pulling from some of the 300 hours of footage, Carol guides us through the compelling work done with Veteran, Art Fritog and his wife (also a Carol.) In separately recorded commentary, Carol Look reveals both the traumatization of this brave couple and their healing journey with meridian tapping. Read more about this product or order it from Carol's site
Video footage also includes interviews and EFT sessions conducted by Gary Craig, Lindsay Kenny, Sophia Cayer, and Ingrid Dinter. This 18 hour DVD set also includes a complimentary study guide from Carol, and insights into the remarkable recovery of this family Click on this link to read more about this product.
Read my 2-part article about my incredible experiences and revelations during the movie with these Vets.

Part 1 The introduction, and common ground of; fear, rage, anxiety, insomnia, phobias. Oy-veh. The Vets were quite scary...and scared.

Part 2: The amazing breakthrough, realizations, progress, incredible results
______________________________________________________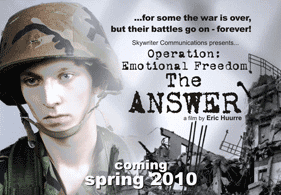 Watch the trailer of this amazing Eric
Huurre film, in which I was
fortunate to participate
_________________________________________
I'm proud to have co-authored, the book "Freedom at Your Fingertips"
This book, written by 20 World-Class EFT and Meridian Tapping practitioners, is different from anything else currently available. Look at this marquee of tapping experts that provided chapters on a variety of topics.

Co-Authors and Their Chapters

Gloria Arenson: Procrastination... Ron Ball: Stress... Gwenn Bonnell: Pain Management... Paul & Layne Cutright: Relationships...... Dr. Alexander R. Lees: Health...Carol Look: Abundance... Angela Treat Lyon: Speaking & Stage Fright... Rebecca Marina: Sexuality... Betty Moore-Hafter: Travel... Carol Solomon: Weight Loss... Loretta Sparks: Addictions... Mary Stafford: Fears & Phobias... Carol Tuttle: Personal Development... Stacey Vornbrock: Sports Performance... Maryam Webster: Blockages & Obstacles... Rick Wilkes: Spiritual Growth... Brad Yates: Happiness... Jan Yordy : Children & Teens

This book is geared to broader audiences. It's aimed at introducing Meridian Tapping Techniques to the public by offering practical ways to use tapping in everyday life. And, it's designed for reference and easy reading in a question and answer format. Read more about this unique book or order "Freedom at your Fingertips", $19.95, or by clicking on the icon above.
__________________________________________
No one does abundance quite like Carol Look. And she's hit this one out of the ballpark. Her "Business Abundance Now" is a fabulous new multi-media program for practitioners designed to blast through your business barriers. It's a great value...one of the best I've ever seen. Follow this link to read all about it.
__________________________________________
Read about Carol Look's latest book on eradicating pain through tapping. Carol always comes up with winners and this is no exception. Simple, thorough and effective.

__________________________________________
Check out the Tapping documentary
"Try it on Everything" aka "The Tapping Solution." Watch the fabulous trailer for the movie which features, Jack Canfield, Bob Proctor, Dr. Joseph Mercola, Dr. Bruce Lipton, Carol Look, Dr. Pat Carrington and so many more stars. Then buy it. It's really great!
__________________________________________
Read about and order the amazing new book "EFT and Beyond - Cutting Edge Techniques for Personal Transformation"


22 EFT Masters (including Lindsay) and MTT Practitioners contributed to the unique techniques and processes detailed in this comprehensive tapping "dictionary."



__________________________________________

Another winning book by Dr. Carrington!

__________________________________________


GoDaddy.com, the world's #1 leader in domain name registrars